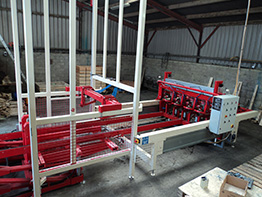 Pallet Machine
Pallet machine designed for 2 or 4 way entry pallets. 3, 4 or 5 runner pallets can be made on this machine. Adjustable jig will accept timbers from 1 Mtr to 1.5 Mtr long. Number, placement and length of nails can all be accommodated. Nails pallet top and bottom timbers simultaneously for high speed production. 1 or 2 man operation depending on production needed. Stacker at the end of the machine to stack the finished pallets. Each machine customized to your needs. Very robust machine.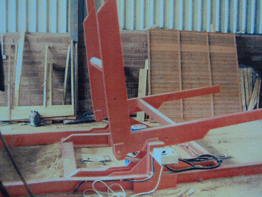 Timber Stacker
Used to take assembled panels and tilt them 90 degrees safely using hydraulic power so they can be picked up by pallet truck for dipping etc.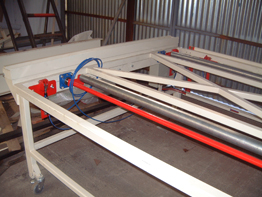 Adjustable Timber Jig
Adjustable timber jig is used in timber industry to clamp assembled framework of shed floors and the like keeping them square and aligned before nailing by hand using a nail gun. Then unclamping and ejecting the finished product. Can handle frames from 1.2Mtrs to 3Mtrs in length. It only uses air pressure to power it.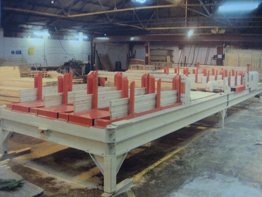 Automated Panel Machine
Automated Panel machine will assemble and nail assembled timber fencing panels automatically and eject when finished. Output is around 1 complete panel every 50 seconds. Also places cap on top and nails to panel, then ejects. You simply load up the hoppers with timber. Designed for high volume manufacturing.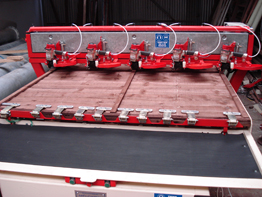 Fencing Panel Machine
Panel machine will nail manually assembled timber fencing panels and eject when finished. The timber batons and sheeting is laid by hand and the machine can be programmed to nail the edges of the sheeting and the cap in one pass. This machine can carry up to 10 nail guns including the cap gun. We also make a double sided version of this machine for 2 operators with double the production.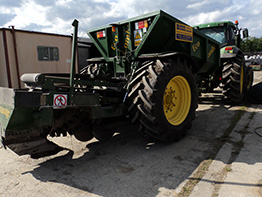 Eco Combi Drainage
Prototype shown here. Click on photo for larger image.
Designed and manufactured in Ireland.
All in one drainage machine for high speed land drainage.
Ideal for drainage contractor.
Machine cuts trench up to 375 MM deep, scatters the loose soil across the ground. Then fills the trench with gravel from the on board hopper to the level of the ground leaving a very good finish. Can store up to 6.5 Tons of gravel in on board hopper. Can be supplied with power assist drive for wet locations. Remote control of all the functions from the tractor cab. Suitable for 4 wheel drive tractor in the 100 to 120 hp range. Can make drains up to 88 Mtrs on 1 hopper fill. Operates at approximately .7 MPH. Suitable for tractor pulling only no crawlers. Capable of payback in one year.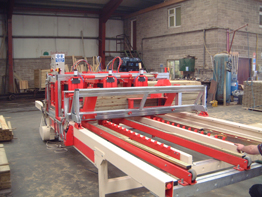 Panel Machine (hit and Miss)
Panel machine (hit and Miss) automatically assembles single sided or double sided staggered timber panel and nails both top and bottom timbers in 1 pass. Uses 6 nail guns. 2 or 3 Timber ribs can be used, extremely flexible. Load up all timber chutes and start. Extremely high output machine. Will make, nail and eject panels 900MM wide to 1.8MTRS non stop. Designed for high volume production.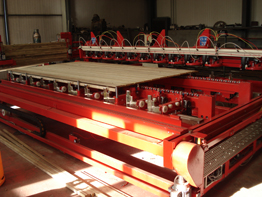 Shed Machine
Shed machine will lay and nail top, bottom timbers and vertical timber frame of shed together using first gantry then lay and staple felt to the assembled frame then using a second moving gantry lay and nail top boards before ejecting finished panel, will lay T and G and ship lap in one machine. Will handle frames measuring 1.2Mtrs high X 1.9Mtrs long to 2.1Mtrs high X 3.7Mtrs long or anything in between. Uses 11 top nail guns, 2 X 90MM nail guns and 3 felt staple guns. Number and spacing of vertical batons can be varied at will. Uses 1000 coiled nails per nail gun for nailing frame together.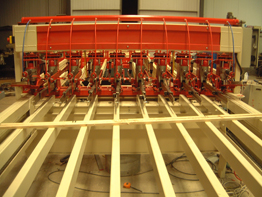 Trellis Machine
Trellis machine for manufacture of garden trellis by loading hoppers with pre cut timbers, then machine assembles and nails trellis automatically and ejects finished product. Will manufacture from 300MM to 1.8M lengths on one machine. We offer 2 types of this machine, one is hopper fed the other is manually fed the timber laths. Can be made using 10 to 19 staple or nail guns. Last lath can be left off for later addition of a timber arc.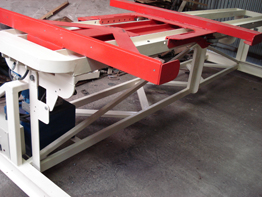 Timber Clamp
Timber clamp used for the manufacture of wooden gates where the dowel ends are press fitted to the rest of the gate using hydraulic pressure. This machine can handle gates from 900MM to 3.6M long and will keep gates square as it compresses the gate slowly and safely together.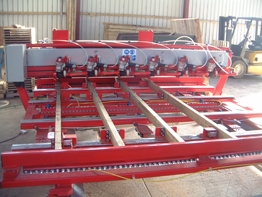 Shed Floor Machine
Shed floor machine will lay and nail floor boards on top of manually laid frame using up to 7 nail guns. Can also be used to nail chip board or similar to frame. Clamps frame while nailing. Very flexible timber jigs able to handle floors from 1.8 Mtrs to 3Mtrs long with very adjustable frame.